RADIO-FREQUENCY MICRONEEDLING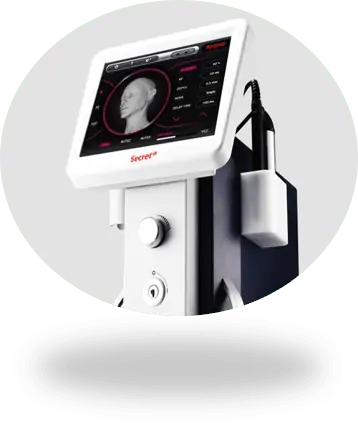 RADIO-FREQUENCY MICRONEEDLING
---
| | |
| --- | --- |
| Duration | 60-90 mins |
| Pain Level | 2/5 |
| Downtime | 1 day |
| Cost | $$$ |
| | |
| --- | --- |
| Results Start | 2 treatments |
| Results Last | Long term with care |
RF Microneedling is a revolutionary system that combines two highly effective treatments:
Microneedling: By creating micro-injuries in your skin using ultra-fine needles, Microneedling helps refresh your skin's appearance and stimulate collagen production. It is suitable for all skin types.
RF Technology: Radiofrequency (RF) technology is a relatively new development in the field of aesthetics. It transfers energy deep into your skin without damaging your skin's upper layers. RF stimulates your skin to regenerate itself and boosts collagen levels, leaving you with fresh, rejuvenated skin. To cater to our client's individual needs, Secret RF delivers energy at various, customizable depths.
Before the treatment, we will apply a topical anesthetic gel to increase your comfort. Your customized treatment will include multiple passes of energy at various needle depths for the best results.
Our RF Microneedling procedure helps effectively treat:
Fine lines and wrinkles
Acne scars, chickenpox scars, and general scarring
Stretch marks
Skin laxity
 For optimal results, you will need multiple treatment sessions.
The price of RF Microneedling per session is between $600-$2,100 depending on your individual needs. Prices can vary when purchasing a series of treatments. Book a complimentary consultation for more information!